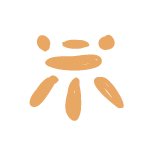 Live a little more than five intense days of adventure and jungle with this package that includes various activities and tours of the most important and more rugged attractions in the three border countries Colombia, Peru and Brazil. One jungle night and four relaxing nights at Amazon B&B 
This package includes six days and five nights accommodation, meals, activities, local guide. If you need a translator for English, you must request it with your booking, and it will be an extra cost.
To make your trip safer and more enjoyable, we ask you to get to know the best Amazon B&B tips


Welcome to the Leticia town, Amazonas
Begin your Amazon day with a warm welcome at Leticia´s airport, Vásquez Cobos. At the hotel, we will welcome you with juices or diversity of tropical fruits.
Leticia city tour and Tabatinga, Brazil When you are ready after your arrival and checking, the first plan is a 90 -120-minute city tour around Leticia Tabatinga (Brazil) and boat tour to the island Santa Rosa (Peru). Lunch in Santa Rosa, so you can try the delicious Peruvian gastronomy. We take consideration of your timetable. If your arrival to Leticia is late in the afternoon, the city tour can be arranged another day. The staff will take care of all the details
Full-day tour to Puerto Nariño, Isla de los Micos and other top amazon rainforest locations.
After breakfast, we pick up you from the Natural reserve location on the Amazon river to go an exacting full-day tour on the Colombian border of Amazon River. You will visit Puerto Nariño, one of the Colombian green treasures. Later we will take you to the Tarapoto Lakes, Isla de los Micos and a short visit to the Ticuna village Macedonia to see locals handcraft of wood. The tour includes lunch, entry fees to the places, local guide and boat transport. The departing time is 7:00 -8:00 depending on weather conditions and season. Arrival time is 16:30 – 17:30.
The adventure in Marasha and one jungle night.
Departure to the port to the natural reserve, Marasha, by boat. Usually the visit can be in the Peruvian reserve of Marasha; however, depending on the time and weather conditions it is not always viable. In that case, we will offer you the most attractive option for your replacement.
At night: You will sleep one night in a typical hut with a basic standard. They are traditional wooden cabins, waterproof roof and protection from insects with mosquito nets. Bungalows are often a double room or family room. Most of them have a private bathroom.
Marasha adventure continues.
Wake up early to see exotic birds and the magnificent Amazon sunrise. After the bird watching activity, you have your breakfast at the natural reserve where you spent the night. In the morning, you can enjoy activities like kayaking, fishing, or trekking with your guide. Lunch is served around 12:00. Return to Leticia after lunch.
Aventure at the top trees or "Mundo Amazónico" on the Colombia Amazon border.
This day there are two exciting possibilities of full day tours to choose depending on guests' interests: Tanimboca or Amazonian Park. Tanimbocas Natural Reserve stands for altitude and adventure. The Canopy –Dossel Tour is the top activity at Tanimboca. The place is 10 kilometres from Leticia by taxi on the only road, called "Los Kilometros". For guests that do not want to have this tour, we offer the visit Mundo Amazónico, a Theme Park with a focus on the Amazon's rich botanical and local cultures. Both tours include lunch, transport, and Spanish-speaking guide. Flexible departure time around 8:00–9:00. Transport by taxi or mini cabin "Tuk-Tuks."
End of your amazing Amazon jungle.
After a peaceful night at Amazon B&B, you will have a delicious breakfast and free morning to walk around Leticia. Later we transfer you to the Leticia's airport.
One night accommodation in combination with a jungle package in Peru, with meals transport and local guides. Please note that the English guide has an extra fee per day tour and depending on availability.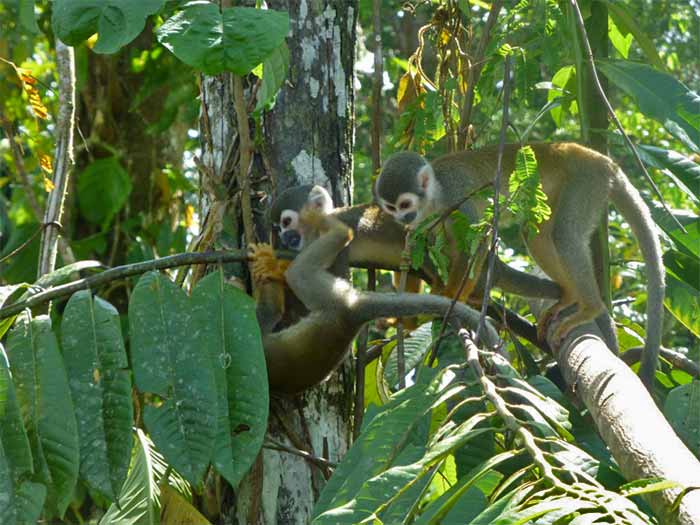 We ask an advanced payment of 50% of the total of your package by Pay Pal or credit card. There is not refundable payment in case of cancellation.The balance of 50% will pay upon arrival in cash or credit card. If with a credit card the transaction has an additional 5% additional cost.
Clause: Amazon B&B reserves the right to make modifications in case of force majeure as difficulties in the logistics or the climate, or the temporary or definitive closing of the proposed place. However, we guarantee that we will always offer a similar or better alternative without changing the price. These changes are usually exceptional situations, and any decision will consult with our client.